Baby Dedication Certificates
Every Christian desires to transform their child into a good human being and a follower of Jesus. This is the reason; different religious ceremonies are carried out in churches where parents and their infants are invited to visit and welcome their children. This visit of parents and their babies is to ensure that they are practicing their religion in the best possible way and their baby will turn out to be a great Christianity follower.
The baby dedication certificate is for those parents who visit the church and promise God to make their baby a dedicated Christian. This certificate is generally issued by the authorities of the church, and it is a proud moment for parents usually when they receive a certificate of infant dedication.
Why do people use a baby dedication certificate?
For many people, using these certificates is a God's command mentioned in the Bible in which God has commanded his followers to make their baby a dedicated and passionate Christian who follows the religion of Christianity with enthusiasm and passion.
Although it does not have any implication in the life of a baby at later stages, parents feel happy when they realize that their infant is transforming into a passionate Christian. This is the reason Christians, no matter from which school of thought they belong, love to become the recipient of this certificate.
When is this certificate issued?
Just like any other certificate, people who want to earn this document are also required to put in some serious effort. Parents are required to take their baby to church in some religious ceremonies and prove that they are willing to dedicate their baby's life to serve humanity on behalf of the Christianity religion. When parents have attended the entire ceremony, then they are issued the certificate.
Sample certificates are below.
#1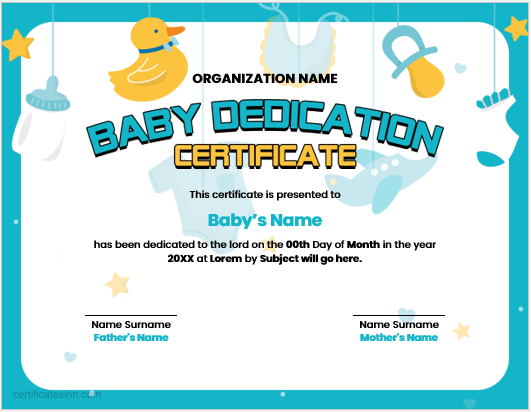 Certificate Word (.zip) File: 2 MB
#2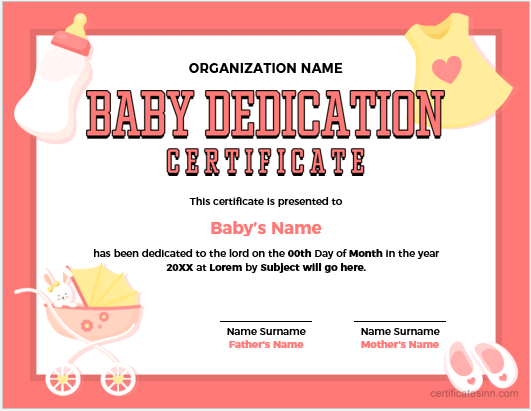 Certificate Word (.zip) File: 2 MB
#3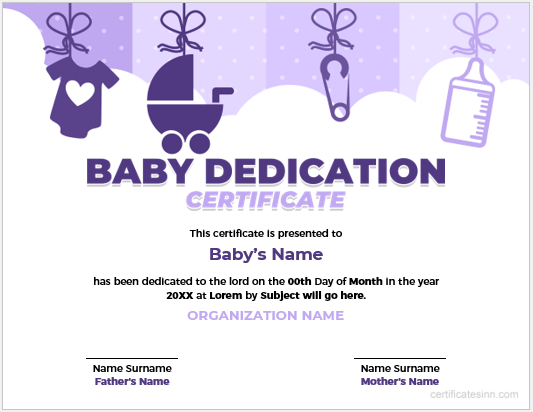 Certificate Word (.zip) File: 2 MB
#4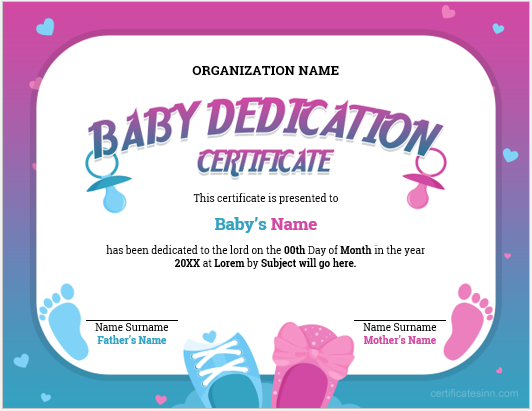 Certificate Word (.zip) File: 2 MB
#5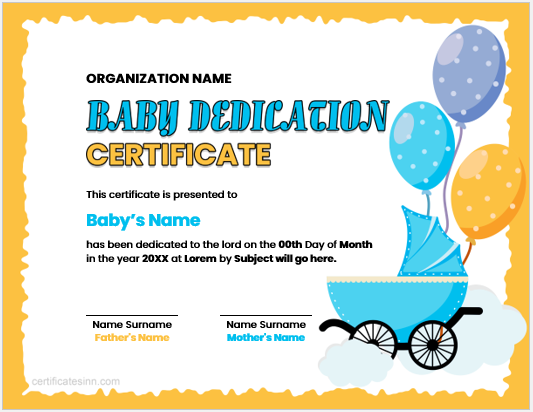 Certificate Word (.zip) File: 2 MB
What information is provided in this document?
The authorities in the church decide what information they should mention in it. However, some common elements have been seen in almost every certificate. These are:
Name of the church
Name of the baby
Name of baby's parents
The date on which the baby was dedicated
How one can get a baby dedication proof document?
This document is the same as a birth certificate or any other official document that parents need right after the birth of their child. So, when they need this certificate, they will be required to contact the authorities of the church to help them. The church authorities enter the name of the baby in their record and then issue the certificate with the name mentioned on it. After that, it will end your name in the pipeline, and you will have to wait for your turn to get the certificate from the church.
Using a template for easy access:
If you need to prove that your baby is a dedicated Christian, but you cannot for the certificate to be issued by the church, you can simply create one. This is usually done by finding a suitable template on the internet and then customizing it to make it tailored to your needs.
Using the template has plenty of benefits. Firstly, it provides a certificate that is already complete and fully designed. The user does not need to do hard work on the template to make it look like a baby-dedicated certification. Secondly, the template provides various design ideas for those who are looking for inspiration so that they can design a certificate of their own.
The content of the template is completely editable which means the user can edit the content to add the name of the baby, or church, change the dates and change the overall design. It is the best tool to be used when you need a certificate urgently and you cannot wait for the church to issue it.
However, make sure that you have decided to use it for legitimate reasons. As long as your child is already dedicated and you want to use it as proof only, it is perfectly fine to use the template to create your certificate.