Mathematics Excellence Award Certificates
Competitive events are a need of the time to prepare and train students for a challenging world out there. Exams and competitions are not meant to demotivate us rather they act as a tool for us to show our hard work and assess how well are we doing and how much we need to work more. Mathematics has been one of the most important subjects from ages and almost every field needs the basics of mathematics. Earlier, mathematics was treated as a subject only until it took the shape of science that matters a lot. These days mathematics is not only taught in schools and universities as a subject only rather students are encouraged to take up such subjects and excel in them. Different tools have been introduced to make mathematics easy and fun to learn for the students and the teachers as well.
Mathematics competitions have a rich history around the world and have taken the shape of an international association now which conducts these events in various countries and provides an opportunity for the students to compete and compare their abilities with people from diverse cultures.
It is not just an event for the students, but it is an equal opportunity for the teachers to show their talent. The teachers help students to prepare for these competitions which comprise of multiple-choice questions, numeric problems and even detailed written puzzles. So it is not just a test for the students but also for the teachers.
These competitions create a positive social impact on the society and the world at large by improving and learning necessary mathematical skills which can help in different fields. Different awards have been dedicated to the teachers who perform well in teaching and training in mathematics. Every institute has its own personalized way to award the teachers normally by way of a certificate.
Motivation and encouragement is a tool which keeps us going and helps us achieve that extra mile in our life. Whatever age we are, we all need recognition for our services. Teachers not only teach students but they also help them achieve their dreams and make them a better person in life. And for that, every teacher deserves to be rewarded.
These awards are one of the best ways to encourage the teachers and present them to other teachers, students, and community as a role model to follow and walk in their footsteps. These certificates do not cost much but can have a very positive effect on the teachers as it shows that their efforts are remembered and they are creating value not only for themselves but for the community as well.
Mathematics excellence award is not only for teachers but it is also awarded to the students as well who perform consistently well in the field of mathematics. By having such competitions, students get a chance to compare their skills and abilities with other students. This helps to prepare them for the future as they get a fair chance to analyze their strengths and weaknesses.
Here is a list of mathematics excellence award certificates. Pick, download and customize the one you like.
*All images and template files are subject to copyright
#1
Dimension: 10.12″ x 14.33″
[MS Word Format:(.docx) Personal Use Only] [Size: 6204.0 KB]
---
#2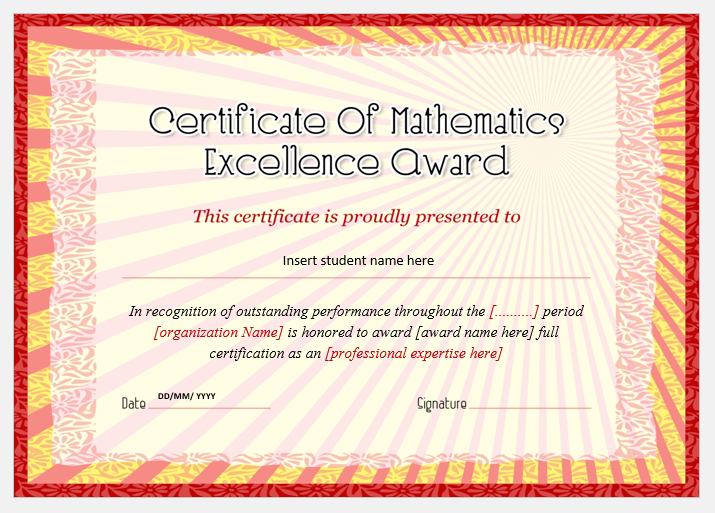 Dimension: 10.12″ x 14.33″
[MS Word:(.docx) Personal Use Only] [Size: 3204.0 KB]
---
#3
Dimension: 10.12″ x 14.33″
[MS Word Format: (.docx) Personal Use Only] [Size: 8204.0 KB]
---