Best Art Performance in School Certificates
Students who participate in art performances can develop their creative skills in a better way than those who don't. This is the reason most educational institutes these days are focusing on the art performances of students so that they can boost the emotional intelligence of children and help them develop their creative minds.
Through these events, children can turn into well-rounded people. Students who have taken part in these programs at any stage of their childhood usually have better communication skills. They are also more confident and when they achieve any award on that, they become more polished. 
What is an art performance certificate?
When a student demonstrates affiliation or interest in any type of art and also shows good performance, he or she gets the best performance certificate. The art performance can be of many types. Whether a school child has participated in an art drama, poetry competition, or classical dance show, he deserves to be acknowledged if he shows a good performance.
How to get the best art performance certificates?
To earn this certificate, you first need to believe in yourself that you can show a great performance, and that you deserve to be acknowledged through the award like a certificate. When you believe in yourself, you can show a better performance and display your skills in a better way. 
There are many academies and schools of arts where students interested in arts take admitted. These schools have a goal to prepare future artists who will entertain people with their artwork and performance.
If you take admitted to any of such schools, you can easily polish your skills and reach a point where you will be able to win the best performance certificate. Even if you are not studying in an art school, wait for the school to organize such an event in which you can participate and get an opportunity to showcase your skills. 
#1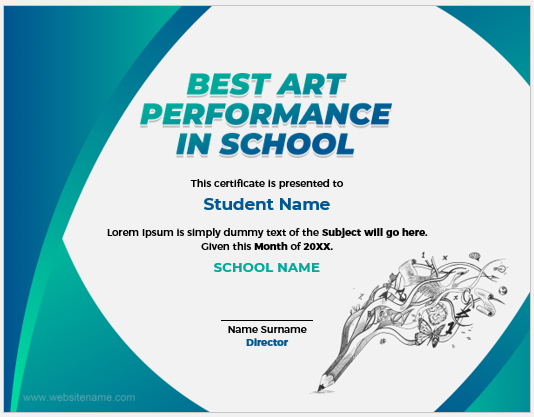 #2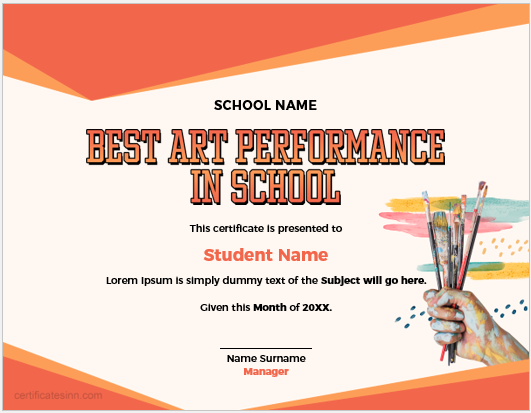 #3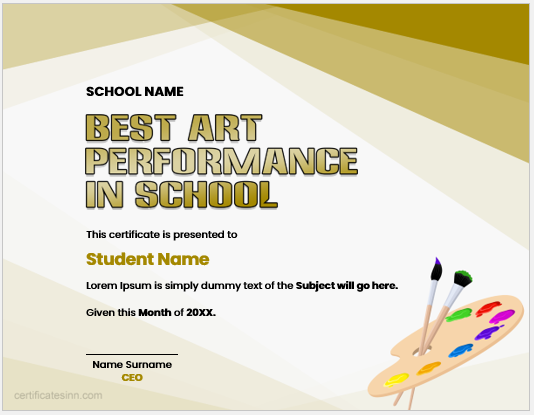 #4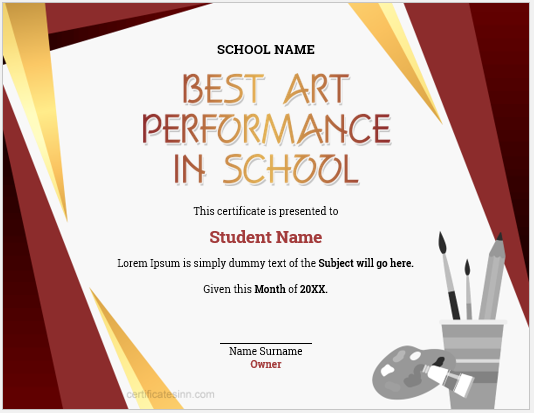 #5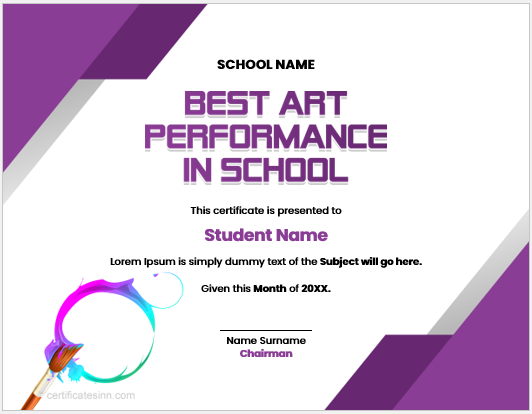 Is this certificate worth the hard work?
Those who want to earn this certificate know that they are required to put the effort into their performance so that they prove that they have shown the best performance among their competitors.
When they earn this certificate, it becomes easy for them to get admission to an art school or academy for higher studies in their chosen field. They can prove that they have gained elementary skills regarding the particular art performance and they have also got the exposure to the environment in which an artist grows and learns to perform. 
Tips for creating a certificate:
If you have finally decided to create the certificate on your own, the tips given below will help you create it professionally:
Choose a design sensibly:
The design of the certificate should be following the art performance exhibited by a school student. The design should portray the image of the art school and the type of art the student has shown.
Keep it decent:
Just because it is for an art performance does not mean that you can add embellishments and vibrant colors to it. A certificate looks amazing when it is decent and used only to appreciate an individual who has polished himself just to give the best performance to audiences.
Take care of the dimensions:
There is a standard size in which the certificates are designed. You cannot make a credential of achievement for an art performer which is too small or too big. The standard size should be followed.
Make use of a template:
If you use the template, you can easily design the certificate that you need. There will be no need to put extra effort and think of the format and various design ideas. The template helps you come up with a credential that has a professional look. When a receiver shows it to someone, he will not be embarrassed due to its weird look since you have followed a readymade design. 
Don't overcrowd it:
There might be a lot of stuff that you would like to add to a certificate. However, you should know that you cannot. You will eventually have to make a compromise and add details to the certificate in a precise manner.