Educational Conference Attendance Certificates
An educational conference is an important event for educationists as it offers opportunities for enhancing one's knowledge. It is also an effective way of establishing connections with other experts and professionals in the field.
An important aspect of these events is an Educational Conference Attendance Certificate. It is awarded to participants and holds a valuable place in their professional lives. It provides proof of participation. It also acts as evidence for an individual if he received certain training or learned new techniques at a particular conference.
Importance of Educational Conference Attendance Certificate
It is a piece of document that provided verification regarding an individual's participation in a particular educational conference. The certificate carries the participant's name, the date of the conference, and the title of the event.
Here are the benefits of obtaining this certificate.
It provides proof of an individual's commitment to his profession and his willingness to progress by learning new things. These are important factors for professional progress.
It is the requirement of certain professions to have attended some special educational conferences, training, and workshops. This certificate can prove that an individual has attended the required events.
This certificate plays an important role in helping an individual gain professional recognition in his field. The document is proof of his attendance at an event that enhanced his knowledge and equipped him with new and improved skills.
Designing an Educational Conference Attendance Certificate
This is an important piece of document as established from the discussion above. Therefore, its design should be professional. Here is how this certificate should be designed.
Including Relevant Information
The most important factor to consider while designing this document is to include all relevant information: the name of the participant, the name of the educational conference, date and duration of the conference.
Using a Professional Layout
It is a professional document that requires a clean and simple layout. There should be no elements that create an unprofessional look, such as pictures, various font styles, or bright colors. You may use an elegant and simple frame. Moreover, use a font style that is professional and makes the information prominent and clear to read.
Including the Conference Logo and Title
Every educational conference is different. In order to make the certificate stand out from others, include the particular logo and title of the conference at the top.
Including Signatures from the Authorities
Signatures of the authorities who headed the conference or who present the certificate must be included. This makes an Educational Conference Attendance Certificate more authentic.
Adding Security Features
This is an important certificate that may play a role in one's professional career and progress. Therefore, it should not fall into the wrong hands. At the same time, the creation of fake copies should be prevented. For this purpose, it is a good idea to add some security features like a bar code.
Use Templates
A better way to design these certificates is to use online templates for Educational Conference Attendance Certificates. These provide a professional design that can be customized to suit your needs.
#1
#2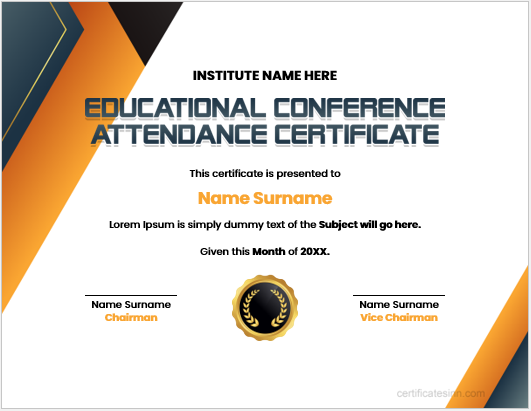 #3
#4
#5