Volunteer Service Certificates
Volunteers work for a social cause without getting paid. They generally help others with good intentions. Organizations that need volunteers to appreciate them by giving them a certificate of appreciation. This appreciation certificate is a clear indication for a social worker that although he is not being paid for the work he is doing, he has been appreciated and encouraged.
This certificate is a type of reward for a volunteer who has provided his services. It is a big achievement for a person who has worked for people who needed their help.
How does a certificate help volunteers?
A certificate is helpful for social workers in a number of ways. Some of these are:
It boosts their morale:
A certificate is a type of reward for those who invest their energy, time, and other resources just because they want to support those who need other people to help them. They don't take money in return but they want to be acknowledged for the work they do. When they receive a certificate, they feel encouraged and more motivated.
It is proof of their service:
It is not easy to be a volunteer. It requires you to do a lot of hard work and develop a sense of generosity in yourself. People who work for others without getting paid are usually givers who know that they cannot expect anything in return. Not expecting anything and then helping others requires a high spirit that we can see only in a few people in our society.
So, whenever we find such people, we should give them a certificate that acts as proof of their service. They can show this certificate to prove that they are a productive and useful part of society.
It acknowledges them:
As has been said earlier, there are very few people who work for others and do not expect anything from them. Such people should be motivated so that they never quit doing volunteer work. When they receive a certificate, they feel that their services have been noticed and remembered. Those who don't do volunteer work also see others being motivated and this also brings about confidence in them.
Samples
#1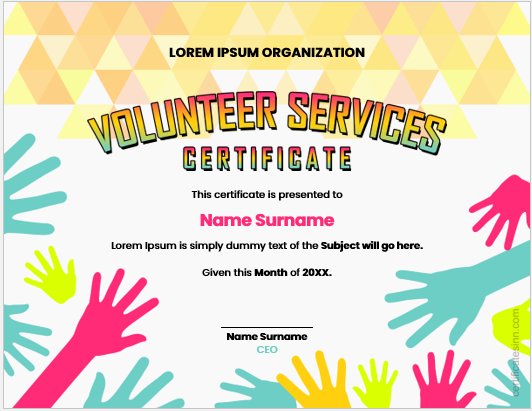 #2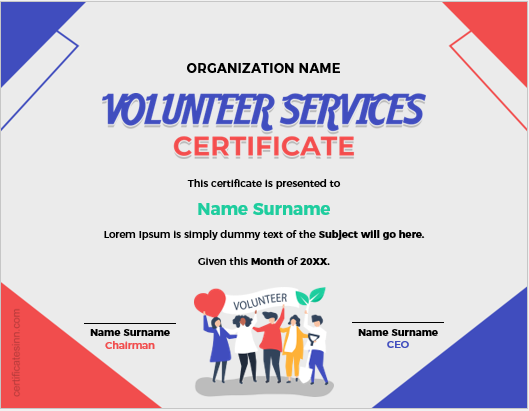 #3
#4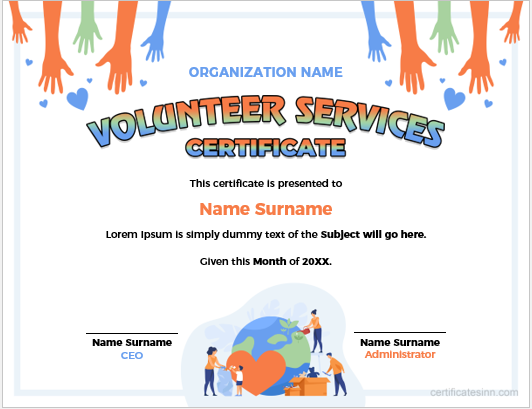 #5
What information to include in the social service certificate?
The basic elements of this certificate are:
Name of the organization where the candidate has worked
Name of the candidate
Social work the candidate has done
Name of the community that has been served
Duration of the social service
Date of certificate issuance.
How to create a social work certifying document?
If your job is to certify someone for the community service they have given, you must make sure that the certificate you create is aligned with your needs. The certificate should include the details that are useful for the candidate especially when he needs to prove that he has served a community for a specific duration. Here are a few tips for creating a certifying document:
Make it a worth reading document:
Your certificate should be such that no one should deem it a piece of trash. It should be worth reading. For this purpose, you will have to pay attention to its design. The design should be compelling and attractive to the recipient so that he feels good when he holds it in his hand.
Use an appropriate acknowledgment statement:
It is important to remember that the statement of acknowledgment is the main component of this certificate that makes it a strong document. Therefore, you must figure out whether you want to appreciate a candidate for his participation in social work or for doing anything that you think is commendable.
Use a template:
You may not be so good at designing certificates because of not have any experience.  So, if you are doing it for the first time, chances are there that you will make mistakes. To avoid this mistake, a template from the internet can be downloaded.
This template provides the user with a ready-made certificate with editable content. The user can change the details of the template to give it a personalized touch. After that, the template is ready to download and print.