Best Prefect Certificate
Educational institutes all over the world pick the best students for the role of prefects. These students display impressive leadership qualities. They are also the top students with the best academic achievements. Being chosen as the prefect is an honor for every student. With the Best Prefect Certificates, they have proof of their achievement that can be very useful for future admissions to reputable institutes as well as job interviews.
In order to present this honorable award to prefects, these certificates are designed by schools and colleges. Here are some ideas and design techniques to help you create the Best Prefect Certificates for your institute.
Include Relevant Information
The most important component of a certificate is the information it presents. Make sure not to miss out on any essential piece of information. Here is what you must include on a prefect's certificate.
Name of your Institute
The recipient's name and class
The date of presenting the certificate
The head or principal's name and signature
Adorn with Visual Elements
It is important to know that it is a formal certificate that should not be designed with irrelevant images or bright color themes. Instead, the design should be neat and minimalistic. However, adding a few appropriate visual images will make the certificate more appealing. You can add to the elegance of this document by adding sophisticated borders or background patterns. You may also add logos or symbols related to your institute.
Choose a Professional Layout
The Best Prefect Certificate needs a professional layout. Make sure that the overall design is well-organized. All the information you present on the certificate should be easy to read. In addition, all the text on the document should be properly aligned with appropriate spaces.
Incorporate Authenticity Features
Make sure that the certificates you present to your students are not misused or replicated. The name of your institute should not be dragged down by fake certificates created under your logo. In order to avoid these scenarios, it is a good idea to include certain security features. Some examples of such features are watermarks or holograms. You may also use special serial numbers. In this way, the Best Prefect Certificates will only be with the most deserving students instead of being circulated among the wrong hands.
Use Online Templates
In order to make your job easier, look for online Best Prefect Certificate templates. These templates give you a pre-designed format. All you have to do is customize and make the document suitable for your needs.
You must personalize the template by adding the name and logo of your institute. You may also add some other features to enhance the customization. For instance, include a photo of the recipient. Another idea is to incorporate a relevant and inspiring quote to make the certificate more special.
These are just a few of the ideas and tips you can use for designing great certificates for prefects. Don't forget to print these certificates on high-quality paper in order to maintain the value of this award.
#1
#2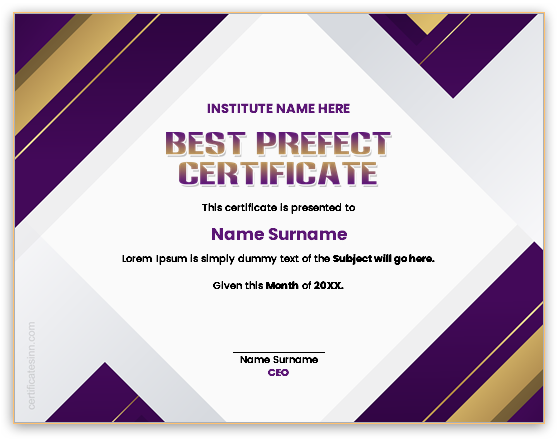 #3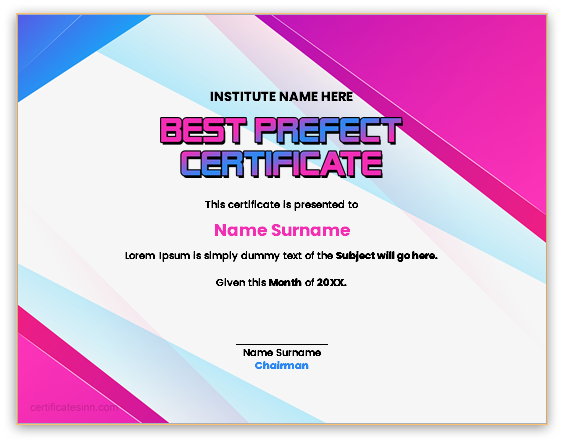 #4
#5