Extracurricular Activities Award Certificates
When we hear the word extracurricular activities, our mind gets flooded with various things like basketball, baseball, tennis, aerobics, gymnastics, and weightlifting. We can be a school team playing all these sports, or a state-level champion to play nationally.
French clubs debating societies, drama and art festivals, photography and so much more are all part of our extra-curricular activities. These activities have something for everyone. If you are not that sports freak, then you can choose for debating or writing competition. So, extracurricular activities are a means to take out the best in every student in different ways depending on what they like.
Why do we need these activities in our life? We do not just explore the swimmer, writer or politician in our personality, but we also get to meet like-minded people with whom we can share our passions. It helps us in our team-building skills and we learn from the experiences of different people. These activities also help us to become a better-focused person.
Sports activities keep us healthy and fit for life. And intellectual activities help us grow our mind, so extracurricular activities provide us with a win-win situation in every aspect. Time management is a very important skill and it has been one of the most important traits of successful people. These activities will help your child learn time management and the art of prioritizing at a very young age.
For personal growth, taking part in extracurricular activities is very important. Our children have to learn that they do not have to become self-obsessed individuals; rather they have to take part in different activities to give something to their society as well.
In the race of growing up and building up a challenging career, we lose our self-esteem somewhere. Every child is not meant to do well in studies. Activities can help raise the self-esteem of a person and make them feel that they are at something even if not in studies.
Having a lot more benefits, one of the biggest benefits is to make a difference in your college application. Even one activity in your life can be enough to teach you various skills which will help you later in your life. These activities will not only get us recognition in our school and college, but the awards and certificates we get can help us further specialize in that very activity as a career in our university.
Following are given different extracurricular award certificates that are Microsoft Word editable files. Pick the one you like, customize and print to serve the purpose.
*All images are subject to copyright
#1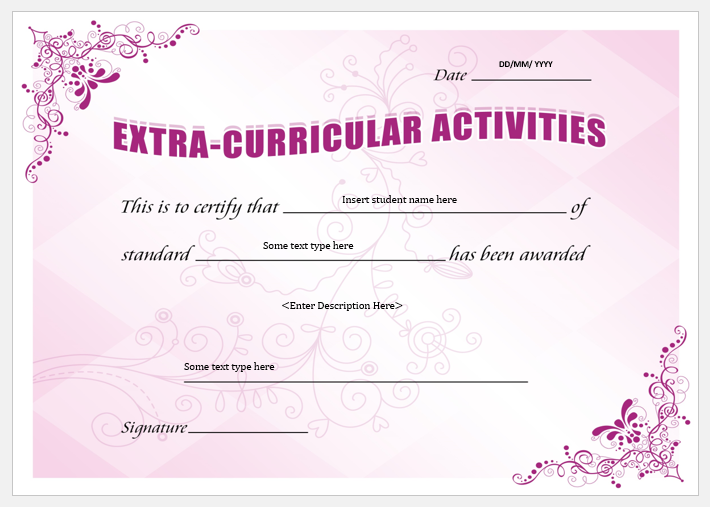 Download
Dimension: 10.12″ x 14.33″
[MS Word Format: (.docx) Personal Use Only] [Size: 2204.0 KB]
---
#2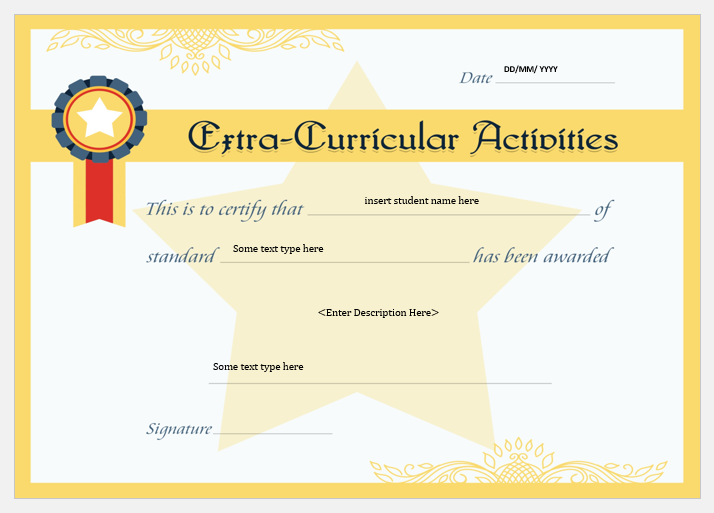 Download
Dimension: 10.12″ x 14.33″
[MS Word Format: (.docx) Personal Use Only] [Size: 1204.0 KB]
---
#3

Download
Dimension: 10.12″ x 14.33″
[MS Word Format: (.docx) Personal Use Only] [Size: 1204.0 KB]
---
#4

Download
Dimension: 10.12″ x 14.33″
[MS Word Format: (.docx) Personal Use Only] [Size: 1204.0 KB]
---
#5

Download
Dimension: 10.12″ x 14.33″
[MS Word Format: (.docx) Personal Use Only] [Size: 1104.0 KB]
---
#6

Download
Dimension: 10.12″ x 14.33″
[MS Word Format: (.docx) Personal Use Only] [Size: 958.0 KB]
---
#7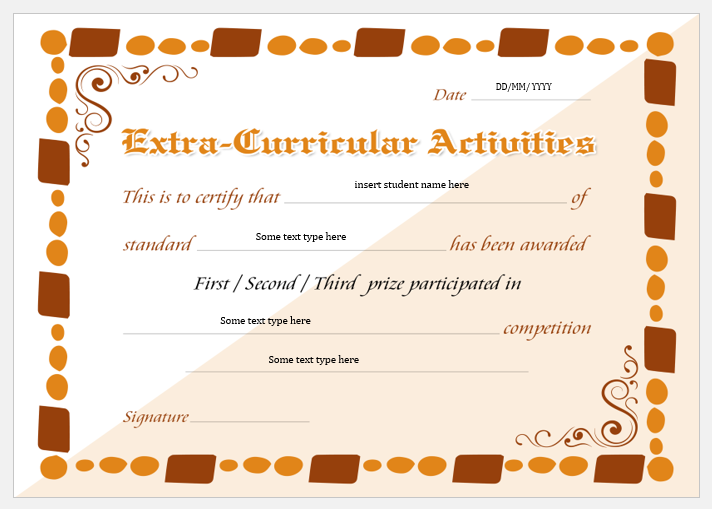 Download
Dimension: 10.12″ x 14.33″
[MS Word Format: (.docx) Personal Use Only] [Size: 958.0 KB]
---
#8

Download
Dimension: 10.12″ x 14.33″
[MS Word Format: (.docx) Personal Use Only] [Size: 1258.0 KB]
---
#9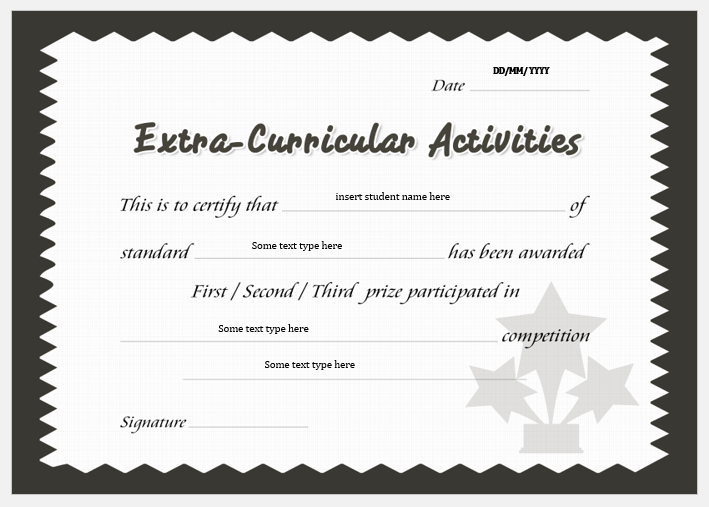 Download
Dimension: 10.12″ x 14.33″
[MS Word Format: (.docx) Personal Use Only] [Size: 921.0 KB]
---
#10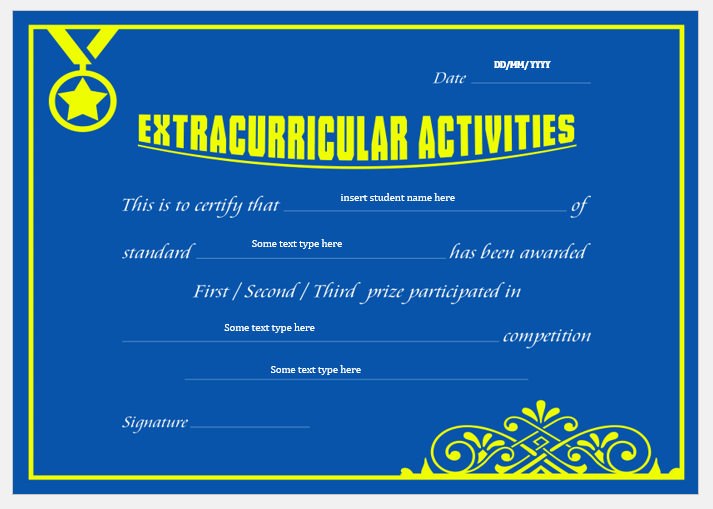 Download
Dimension: 10.12″ x 14.33″
[MS Word Format: (.docx) Personal Use Only] [Size: 458.0 KB]
---