Kindergarten Graduation Certificates
Kindergarten graduation is a memorable event as a child steps towards more serious years of his academic life. In order to celebrate this important milestone, students are awarded kindergarten graduation certificates. These certificates serve as a memorable reminder of a child's achievements at the successful completion of their early years at school.
Discussed below is more information about kindergarten graduation certificates including their importance and design ideas.
What are Kindergarten Graduation Certificates?
Kindergarten graduation certificates are formal documents that recognize a child's successful completion of a kindergarten school. These are usually awarded during a proper ceremony or graduation event that is conducted to formally acknowledge the completion of kindergarten. It is a celebration of a child's accomplishments by the school and parents attend to witness the award-giving ceremony.
Each of these certificates contains important information including the child's name, the name of the school, the date of graduation, and the signatures of the teacher and Principal.
The Significance of Kindergarten Graduation Certificates
Kindergarten graduation certificates hold significant value for both children as well as their parents. A certificate provides a sense of achievement to little ones. Their self-confidence is boosted through this award. On the other hand, it's a moment of pride for the parents. The certificate is a prized document for them.
In addition, these certificates also serve as a symbol of a child's readiness for the next phase of his or her education. It is a way of providing incentives and motivation to children to work hard for the next grades.
Celebrating Achievements through Graduation Certificates
Kindergarten graduation certificates are not just simple pieces of paper, they represent a child's growth and progress. During the graduation ceremony, these certificates are presented to each child individually, acknowledging their achievements in front of their proud parents. Therefore, each certificate holds immense value as it is a celebration of the achievements of little students.
Design and Customization
Kindergarten graduation certificates can be designed in various ways in order to make them unique and memorable for each child. This document often features colorful backgrounds, playful fonts, and engaging artwork that is appealing to little students.
Some certificates may incorporate the kindergarten's theme or mascot to add a personalized touch. In addition, to further customize the certificates, teachers can write a personalized message or highlight specific accomplishments of each student. This further enhances the certificate's value.
Long-Term Value of Certificates
These certificates hold long-term value. These are memorable for children and their parents as their first ever significant academic achievement.
Parents often keep these certificates as keepsakes. These may be framed and mounted on a wall. A well-designed certificate adds to the value of the document.
Final Thoughts
Kindergarten graduation certificates are not just an academic document, but tokens of accomplishment and inspiration for young learners. These certificates recognize and celebrate the achievement of these children.
Therefore, each certificate must be designed after a thoughtful process and planning. There should be personalized touches that can have a long-lasting impact on these memorable certificates.
Certificate Templates
Certificate File (.docx) 2 MB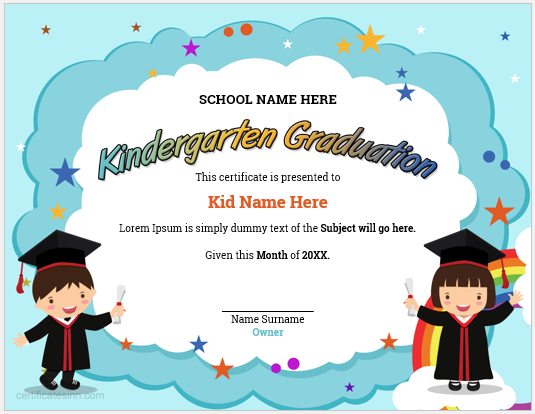 Certificate File (.docx) 2 MB
Certificate File (.docx) 2 MB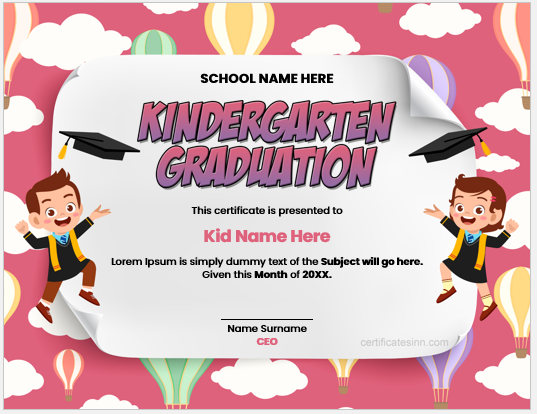 Certificate File (.docx) 2 MB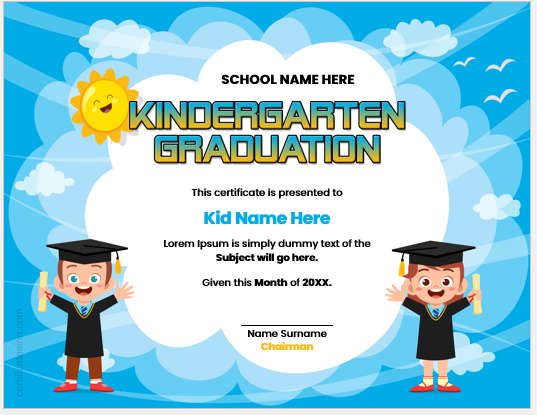 Certificate File (.docx) 2 MB