Best Sales Award Certificates
A best sales award certificate is awarded by the organizations to their employees in order to recognize the efforts of the employees for boosting the sales of the company. No doubt, this certificate is one of the most prestigious awards that one can achieve.
Importance of sales award certificate:
It is a basic need for every organization to boost its sales in order to generate more revenue. For this purpose, companies form different policies and also implement different types of strategies. One of the most common and viable things done by the companies is to hire salespersons with the skills to sell items.
The salespersons are encouraged to boost the sales by offering them a bonus on the salary. In some organizations, the targeted number of sales is given to the salesperson. Any salesperson reaching this target is rewarded by the company.
Furthermore, when the salespersons are able to boost the sales for the company, they are awarded the best sales award certificate. It becomes inevitable for an organization to award the employees when they contribute to the increase in sales.
Benefits of best sales award certificate:
Almost every organization uses the tactic of awarding the employees with the certificate due to the benefits they achieve. Some of the key benefits are:
The best sales award certificate enables the employee to feel that their services are being recognized. In this way, they work even harder.
When one employee receives the award, the other employees also get motivated and try to work more enthusiastically so that they can also earn this certificate
Any person who wants to work in the sales department in the future can mention the achievement of earning this certificate in the section of key competencies in his resume. One the basis of this information, many organizations, can choose to hire that employee
This certificate is equally important for companies. The companies that reward their employees with the money and certificates actually show the professional attitude towards their employees. This puts a good impression on the customers of the company
Creating the best sales award certificate:
A certificate awarded by an organization reflects the organization. Therefore, it is important to be very careful while creating this certificate. Just like any other award, creating the best sales award certificate is also very easy to create if you are well aware of the format and the details to be added. Following steps can be followed to create a best and professional looking award:
Add the name of the company awarding the certificate along with the logo
Mention the title of the certificate in bold and prominent font since it is an important information
Mention the name of the employee who is being awarded
Mention the date on which the certificate is being awarded
Get the certificate signed by the director of the organization
The certificate should never lose its decent look no matter for which purpose you design the certificate.
#1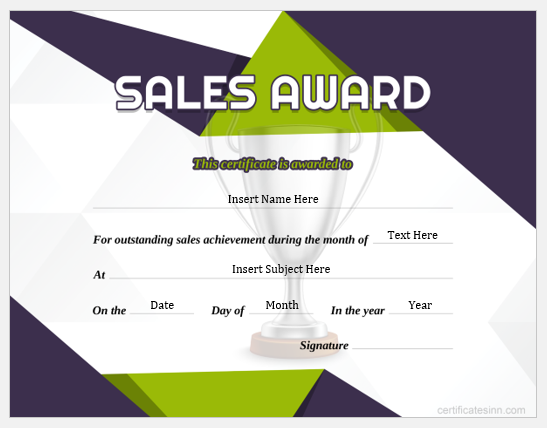 Dimension: 8.5″ x 11″
[For Word: (.docx) Personal Use Only] [Size: 1204.0 KB]
---
#2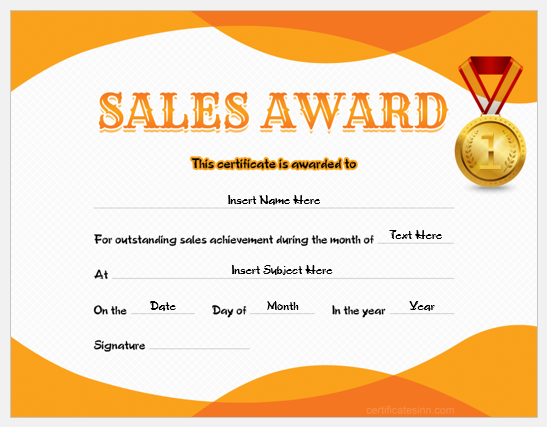 Dimension: 8.5″ x 11″
[For Word: (.docx) Personal Use Only] [Size: 3104.0 KB]
---
#3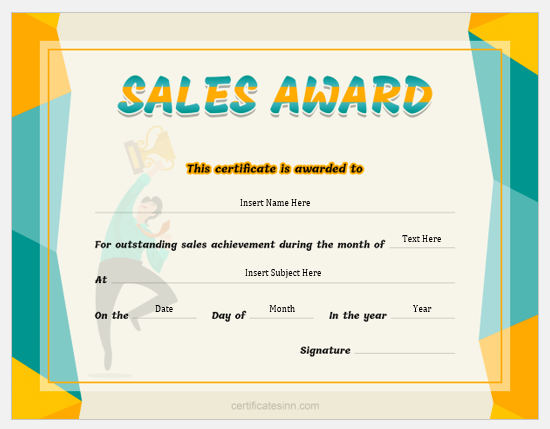 Dimension: 8.5″ x 11″
[For Word: (.docx) Personal Use Only] [Size: 1404.0 KB]
---
#4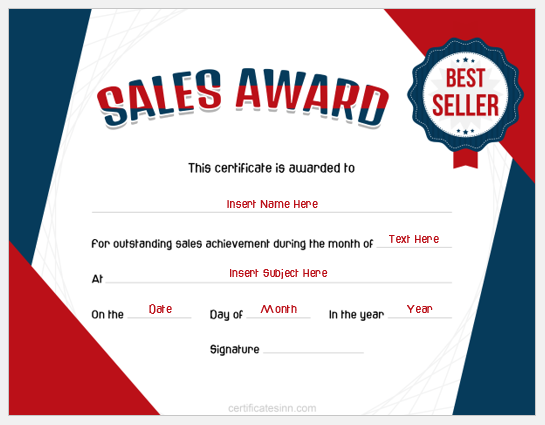 Dimension: 8.5″ x 11″
[For Word: (.docx) Personal Use Only] [Size: 940.0 KB]
---
#5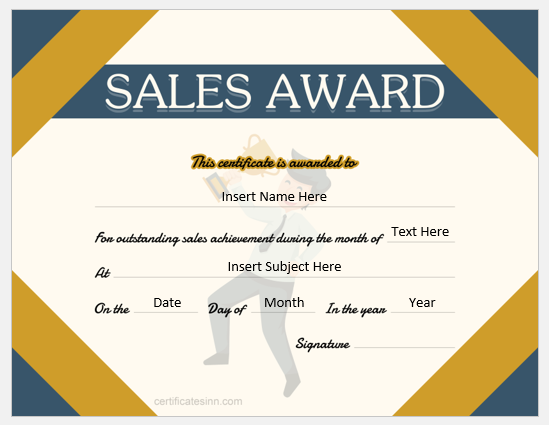 Dimension: 8.5″ x 11″
[For Word: (.docx) Personal Use Only] [Size: 809.0 KB]
---