Excellent Attendance Certificate for Students
For a healthy and useful learning process, a student is required to be regular in the classroom. Students who ensure a high percentage of attendance in the class are likely to get high grades in class. Such students don't miss any important lecture thereby, ensuring active learning in the classroom.
When the student shows excellent attendance in the classroom, he deserves to be rewarded. Teachers often reward their students who show perfect attendance. At the school level, the principal of the school also issues this certificate to the student who remains present throughout the academic session.
Importance of excellent attendance:
The excellent attendance is encouraged in the schools because it prepares the student for the successful life in studies and also in career. Excellent attendance ensures that the student attains good grades in the classroom.
Students who stay regular throughout their educational career can feel more connected with their studies as compared to those with irregular attendance.
Being regular in the classroom is a habit. The schools motivate the students to show up as a regular student that can prove to be very helpful for them in the future. Every student should make attendance his priority after studies.
What is the purpose of awarding the excellent attendance certificate?
Every school tries to make its students punctual and disciplined. The schools play a major role in building the personality of the students by encouraging them to be regular in terms of attendance.
How effective is it to use the excellent attendance certificate?
Almost every school uses the attendance of the student as a parameter to judge the behavior and performance of the student.
Some schools also reward the students separately for showing excellent attendance. There is a particular standard every school sets for measuring the student's abilities.
The students get motivated to attend the school or college regular when they see their classmates getting awards of excellent attendance.
After completing the graduation, the student can mention his earned certificate of excellent attendance in his resume in order to prove that he is a habitually regular person. It is the first priority of every organization to hire those individuals who are able to come to the workplace on a regular basis.
A student is able to clear all the courses easily when he attends the lectures delivered in the class.
Templates:
The template for this appreciation certificate can be used in order to save time and energy. This template allows the user to be creative in terms of customization. The user can add a personal touch to the template by editing it.
The user can add the logo of the school, name of the school, and the text of his own in the certificate. However, with the help of customization features, the user can change the font, layout, and the design of the certificate. People who don't know how to draft a certificate to be awarded find this template to be a useful tool.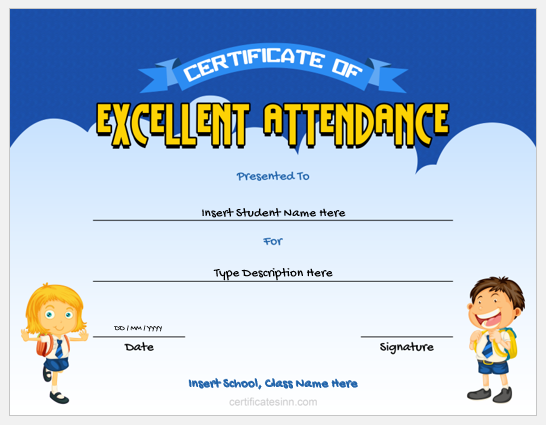 File: Word (.docx) 2007/+
Size 1428 Kb | Download
---
File: Word (.docx) 2007/+
Size 1423 Kb | Download
---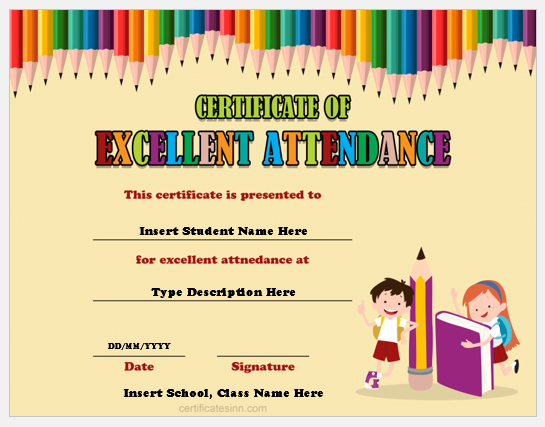 File: Word (.docx) 2007/+
Size 2428 Kb | Download
---
File: Word (.docx) 2007/+
Size 1328 Kb | Download
---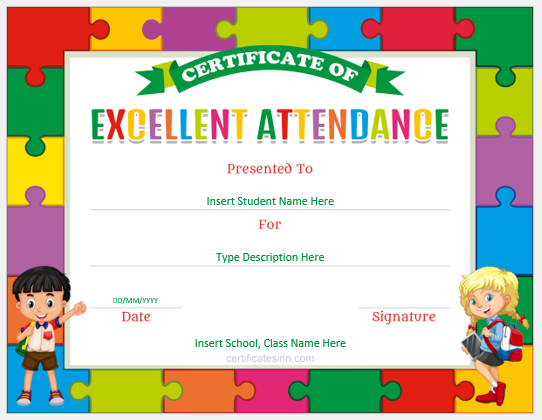 File: Word (.docx) 2007/+
Size 3428 Kb | Download
---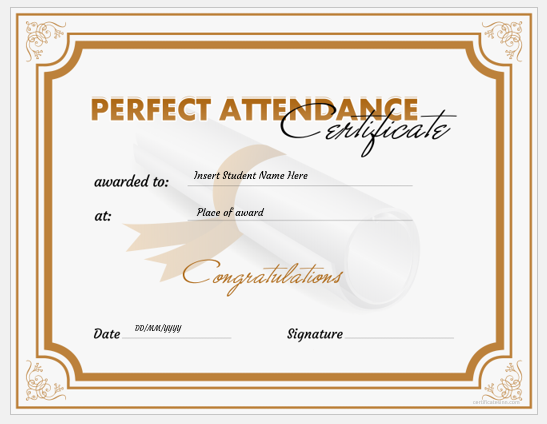 File: Word (.docx) 2007+ and iPad
Size 1428 Kb | Download
---