Music Award Certificate Templates for Word
Music knows no language and it also has no cultural boundaries. In addition to it, people of any age group can enjoy the music of different types. Apart from enjoying music, some of us are talented enough to be musicians. When it comes to becoming a musician, there is so much that goes into it including having the prowess of operating different instruments such as violin, guitar, piano, singing songs, and whatnot.
Because of the popularity of music across the world, it is considered a main arts subject in educational institutes. There are also some dedicated institutes giving music classes to train and polish individuals with an interest in music.
What is a music award certificate?
A music award certificate is a way of appreciating those who show good efforts with playing musical instruments. Generally, these certificates are used at the school level to appreciate and encourage children. Awarding a certificate is an excellent way to develop the interest of children in the field of music. This award can serve as a useful credential that a child can easily take pride in. He would love to show it to others to prove that he has put in the effort and tried to prove to the world that he can do a lot.
Why are these certificates used?
Different educational institutes organize different events for students to develop their interests in various areas of life. a student needs to take interest in some art subjects also in addition to studies. Therefore, different competitive events are organized from time to time. These events not only make the students develop the skill but also enable them to muster enough courage to compete. The music award certificate is another tool used by schools and colleges to ensure that students spend their leisure time more productively by learning something instead of wasting it.
What should be included in the music award certificate?
Creating a certificate of appreciation or achievement is no big deal. This is because most of the certificates are created in the same format with different content. The details that you should never miss out on while creating an awarded credential for the subject of music include:
1- Title
At the top of the page, the title of the award should be mentioned. The title should be complete and concise at the same time. It should demonstrate the name of the award by using a slightly bigger and different font. The title can be displayed in a straight line or in the form of an arc depending on what you want the award to look like.
2- Student's name
It is important to describe which student has been awarded this certificate. When a student sees his name written on it, he feels happy. It also gives him a sense of belonging and he always loves to treasure it since it has his name on it.
3- Reason for the award
Although the title of the certificate says it all, sometimes it is not clear why the recipient of the award has been considered for it. Therefore, the reason for giving this certificate is mentioned in two lines right below the name of the recipient. In these two lines, the recipient is generally admired. In addition to it, it is also described that in which area of the music he has shown exceptional performance.
4- Date and signatures
The date on which the award is being issued along with signatures of the authorities must be there in the certificate in the end. This shows that the certificate is a legitimate document that has come from authentic authorities. Some organizations also use stamps instead of signatures to validate the authenticity of the certificate.
Using the template
Many institutes like to use templates for generating certificates instead of creating new ones from scratch. Since the purpose of these templates is to help those who have no knowledge and experience of creating these credentials, they can be downloaded and customized according to the evolving needs of the user. The details should be edited to give the template a personalized look and then it should be printed on a desirable paper.
Sample Templates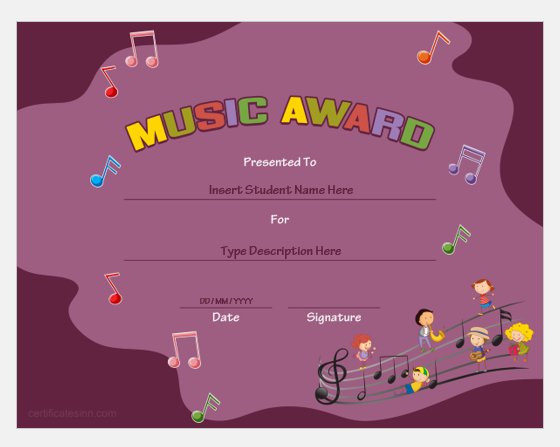 Size: 3MB Word .docx File Version 2007/later
Download
---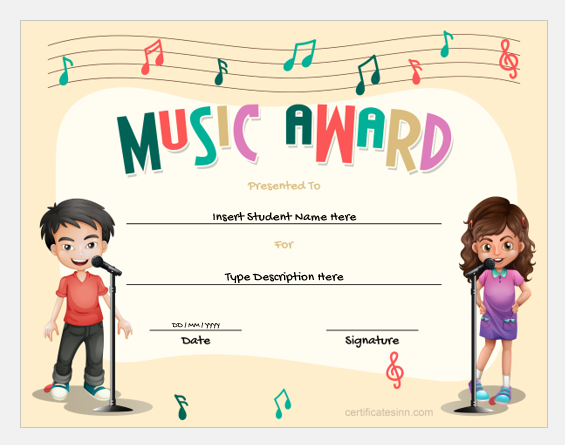 Size: 5MB Word .docx File Version 2007/later
Download
---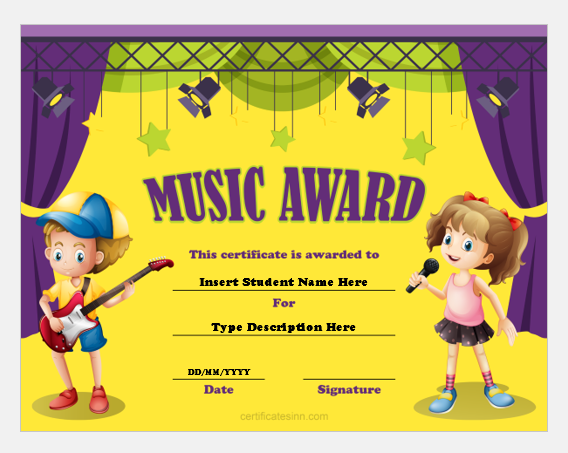 Size: 5MB Word .docx File Version 2007/later
Download
---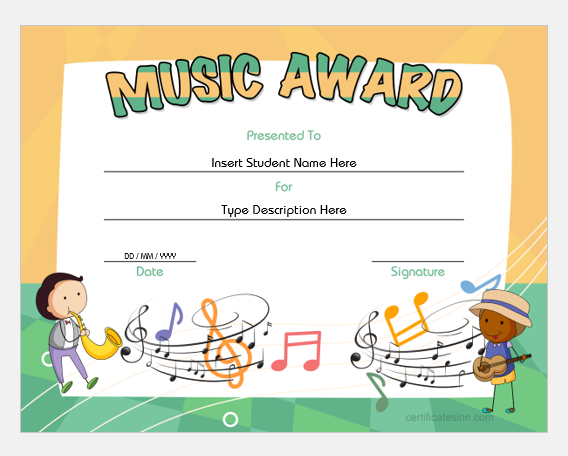 Size: 4MB Word .docx File Version 2007/later
Download
---
Size: 3MB Word .docx File Version 2007/later
Download
---