Healthy Lunchbox Certificates for Word
What are Healthy Lunchbox Certificates?
A healthy diet is a vital point for spending a healthy life. A healthy life brings prosperity and happiness, dedication and determination, energy and power, intelligence and implementation, and prevention from certain diseases.
Therefore, you need to encourage your children from the very beginning of their age to choose a healthy diet. It is not an easy task to set your mind on eating healthy when you have mouth-watering junkies available everywhere. It is observed that junk food is accessible and inexpensive as compared to healthy food.
School lunchbox is an important point to start to teach your children for eating healthy. School administration has to impart special sessions to the kids to enforce healthy eating through teaching, counseling, practicing, and then rewarding.
Rewarding the kids encourage the ultimate behavior. Therefore, it is important to note that certifying the kids for eating healthy is an important thing to do. Schools provide the kids with healthy eating/lunchbox certificates.
The certificates are granted by the school authorities to the students. The decisive authorities who finalize the students for certification include the school's nutritional guide, supervisor, manager, or principal.
Forms of Healthy Lunchbox Evaluation
There are various forms in which a student can be evaluated for healthy lunchbox certification. There are two widely chosen evaluation methods; one is to check and observe the student's routine who is bringing healthy lunchbox every day and the other is to contest between the students for who eats healthy. This is also evaluated by the daily lunchbox observation by the teachers.
What Makes a Healthy Lunchbox?
A healthy lunchbox means bringing healthy food for lunch from home or choosing healthy eating if it is provided by the school authorities. Some of the schools are mandated to provide lunch services to their students. In such a case, the choice is observed.
Elements of Healthy Lunchbox Certificates:
Healthy lunchbox certificates should have the following elements in them:
Title: title can differ as it depends on the choice or design. Some titles are written simply as 'Healthy Eating', 'I ate healthily', 'health is wealth or any other. Some of them give the certificate a title by the name of the school and its logo.
Name of the contestant/student
Date of certification
Signature by the school nutritional guide
Principal's signature
Design: healthy lunchbox certificates should have images of healthy foods like vegetables, fruits, and other diets high in vitamins and minerals.
Benefits of Healthy Lunchbox Certificates:
Healthy Lunchbox certificates can be very useful and can have long-term effects on the habits and thus shape the personality of the kid. These benefits include:
Promoting the habit of eating healthy
A healthy body has a healthy mind
Personality shaping and grooming
Encouragement through certification can have lasting effects
Encouraging others to eat healthy by rewarding the one with the certificate
Setting and depicting health as a priority for the students.
Healthy Lunchbox Certificates Templates:
Various templates are available on this website that can be downloaded and customized. One can easily go through them, choose the desirable, and edit the credentials.
#1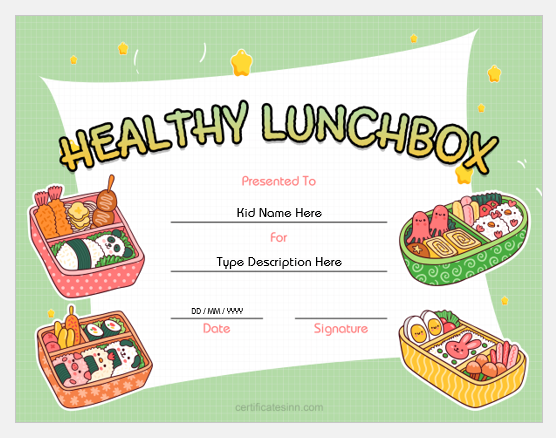 #2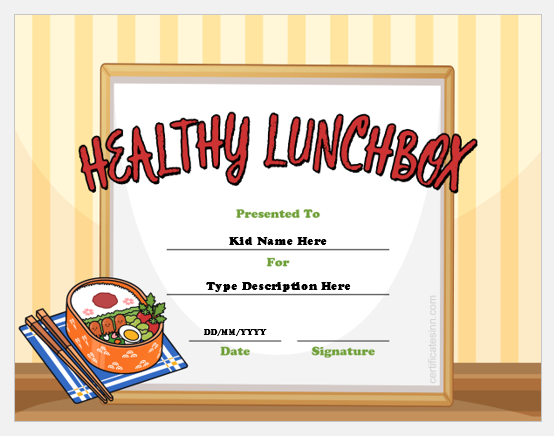 #3
#4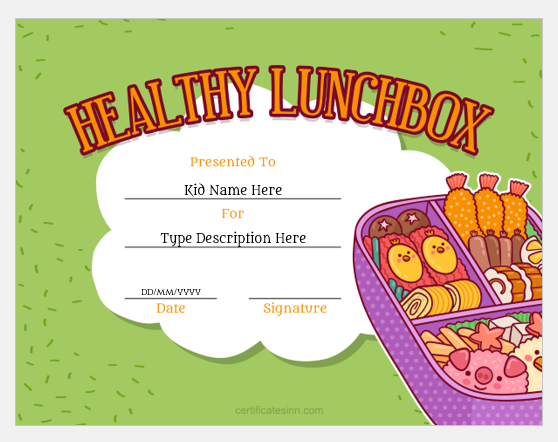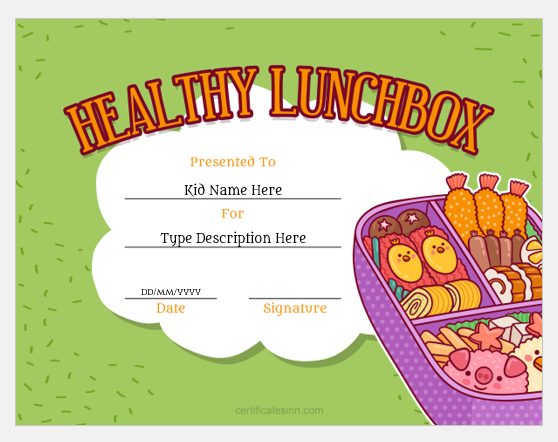 #5