Summer Swimming Classes Certificate Templates
Swimming lessons are essential to learn these days, as swimming is an art and one should master it. It is one of the best physical exercises that ensures the best physical health of kids, as swimming promotes muscle strength and also increases stamina. From a life-saving point of view, kids should always learn skills like swimming.
What is a summer swimming class certificate?
Kids often attend summer classes during the summer break when they are free from their regular studies and want to utilize their leisure time to learn something that can be useful for them for the rest of their lives. Swimming is beneficial in a number of ways. It helps people remain active, stay away from obesity and many other diseases, and much more. Kids who learn to swim can also save someone's life who is drowning.
Many institutes value the art of swimming and, therefore, organize classes for students who are free from school. This is the best time of the year for kids who want to learn something new. The free time enables them to remain focused on what they learn instead of wandering around and not doing anything useful. At the end of the swimming course, kids are awarded an award or a certificate. This certificate is proof that the child has learned to swim and can be made to get into the water. However, one needs to be careful.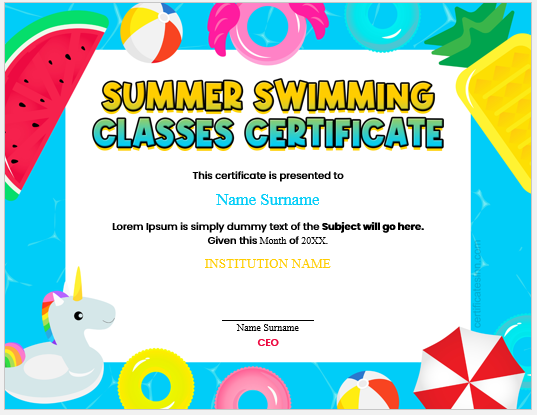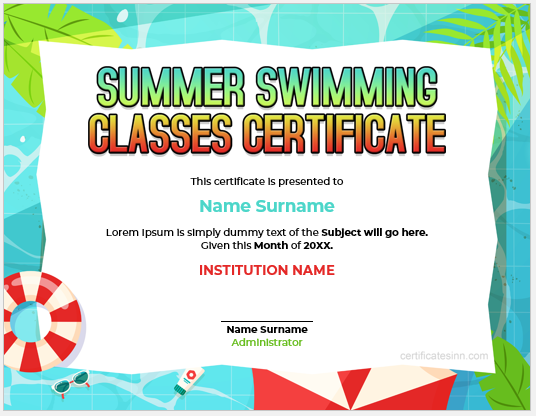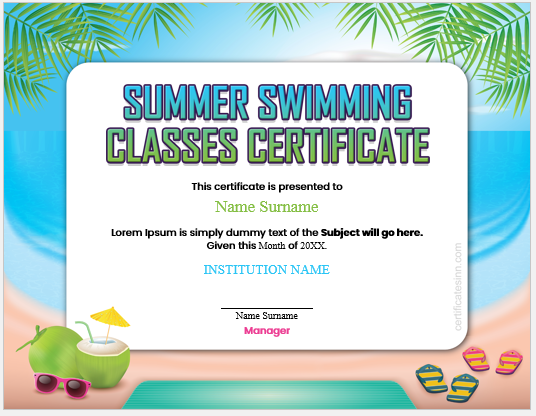 What should I include in the certificate?
You might be thinking about what to include in a certificate that you want to give to the child so that it can be a useful addition to his portfolio and he can be proud of the fact that he has not wasted his time learning something. Here are some tips as to what you should include in this certificate:
Name of the awarding institute
Every swimming school mentions its name on the certificate, which is proof that the child has learned from an authorized and licensed institute. Therefore, adding a name sometimes makes a certificate more worthwhile.
Title of the certificate
Anyone who reads the certificate should be able to know its purpose, which becomes clear when a certificate is issued. The title, therefore, holds the most significant position in the certificate and should be the most visible.
Name of the course
The name of the course lets the reader know what type of swimming course it is. Some courses are for beginners, and only introductory skills are taught, while others are advanced-level skills for those who already have a basic understanding of swimming. The name of the course tells what a person has learned and at what level.
Name of the participant
The child who has participated in the course should be appreciated and acknowledged, and due to this, it is important to mention his name on the certificate. The child can use it to show that he has learned to swim and is capable of learning more.
Date of issuance
The date of issuance should be mentioned so that it can be seen how old a certificate is.
Stamp
The stamp is one of the essential elements of the certificate, without which it is not complete, as a stampless certificate will not be able to prove its authenticity. The signature of the higher authority should also be there at the end, which will also be proof that the child has earned this certificate and did not get it without any effort.
Is using a template worth it?
A template provides a ready-to-use certificate, which is highly useful for those who don't have the time or knowledge to create one from scratch and want to do it without any effort. The template comes in a variety of designs, so it is very easy for people to find the design that they feel is the right fit for them.
Those who want to create the certificate on their own can also use the template to get inspiration from the designs that it has used. It becomes very easy for people to start their work and show their creativity on the certificate. However, the template can also be used to show creativity as it is modifiable and can be personalized.